2016 | 5:27 min | 4K | 1.85:1 | 5.1 | English | 2D Drawn Animation
A film about a lost shirt button, perfectionist aunts, busy cats,
startled parrots—and a long-lost friend.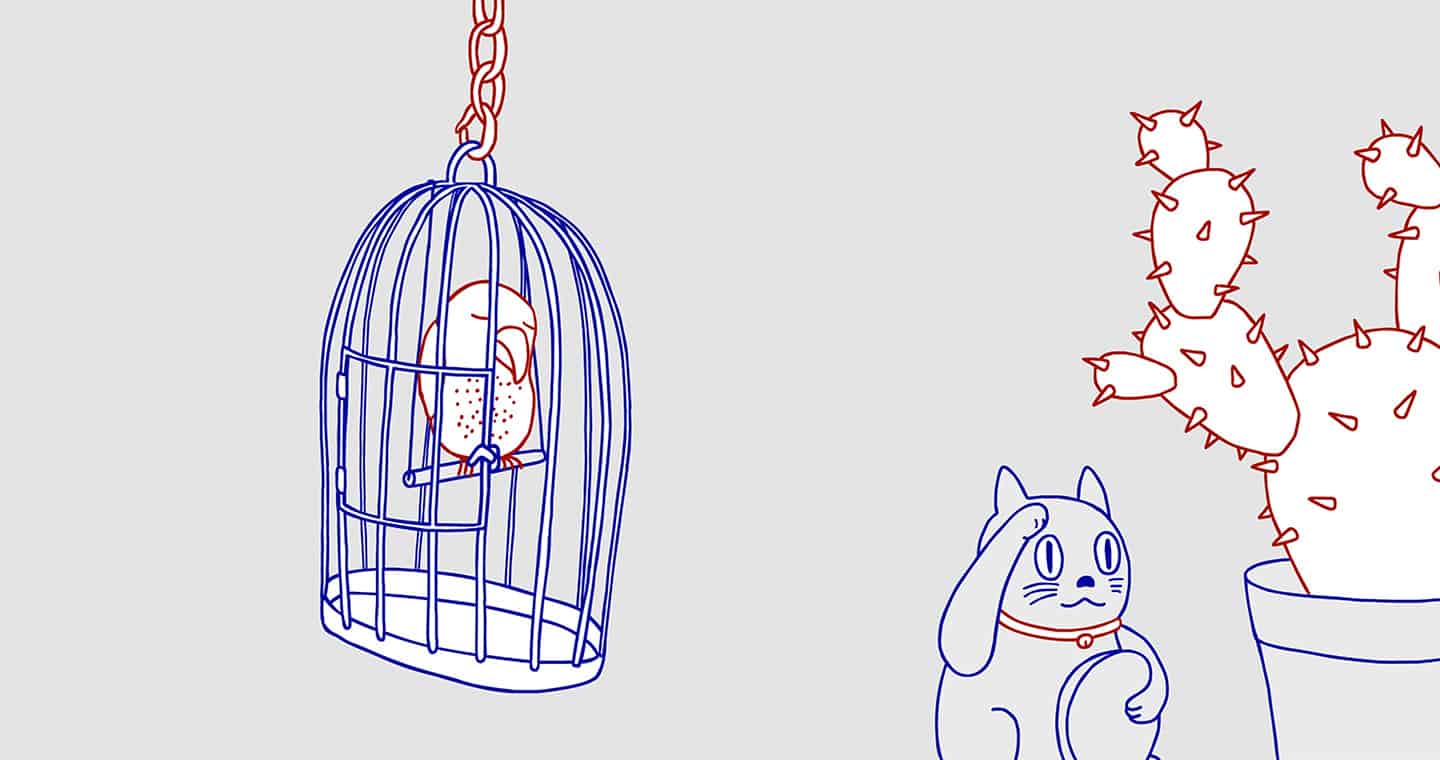 Idea, Design & Direction: Antje Heyn
Lead Animation: Alexander Isert
Animation Assistance: Johanna Hochholzer
Words: Jonas Lieberknecht
Voice: Alexis Krüger
Music: Peer Kleinschmidt
Foley Art: Peter Sandmann
Sound Editing & Mixing: Sebastian Reuter
Supervising Cat: Percy




Seal of Approval "Highly Recommended"
"TRIAL & ERROR constantly surprises by its dry humor and playful imagery. It put the jury in such a good mood that they could not do otherwise than awarding the movie as "Highly Recommended"."(FBW Germany)
FAQ
How long did it take to make the film?
The idea is actually a couple of years old and it waited very patiently for its realization. In February 2015, we began working out the script and animatic. Afterwards, we intensively started animating and finished it in January 2016.
Why did you choose drawn animation as technique?
Drawn animation is a very time-consuming technique, since you have to draw, animate, adjust, texture and colorize frame by frame. For us, it was the most appropriate way to tell the story which is based on an illustrated booklet of mine.
Why is the protagonist only shown from shoulder to hip?
That was a very bold decision as you have to show emotions without any facial expressions to relate to. To create a character, who is that minimalistic from a visual point of view, proved to be an interesting, sometimes challenging and unique task.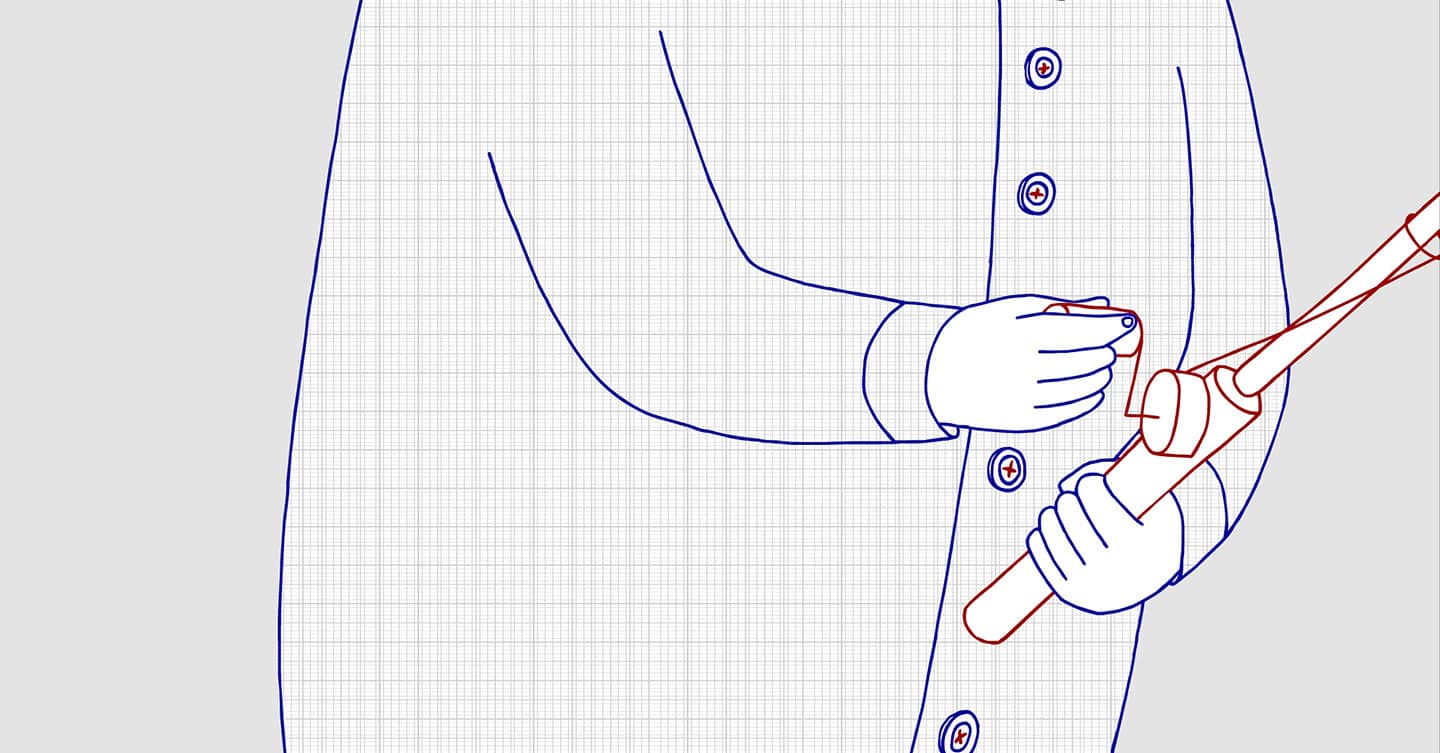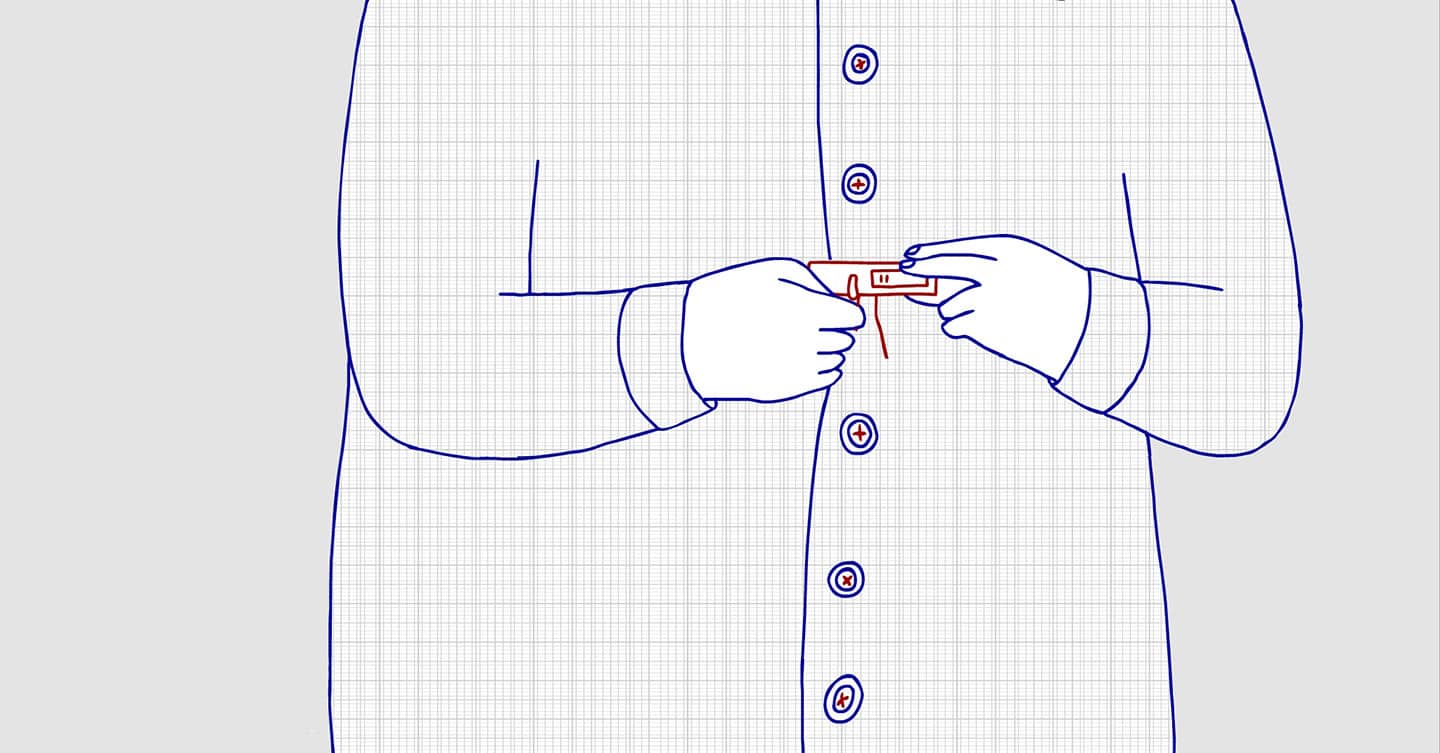 Fun Facts
Who is the Supervising Cat Percy in the final credits?
Percy is our studio cat busy supporting us with advices. He likes to talk a lot and comments on work-, play- and food-related subjects. Usually he prefers to sleep and snore. But if we have to make important decisions, he instantly wakes up and gives his approval or rejection of an idea by meouwing loudly.
The most difficult scenes?
Ironically the most difficult scenes were the ones that actually don't look complicated. But I can tell you stories about a shuttering cat, which took us ages and thousands of
tests and revisions. Also the scene with the fishing rod got us all quite fed up, because we
spent so much time on it.
Management Summary
While working our crew consumed roundabout 30 kg of sweets, 250 liters of
coffee and 2450 hours of music. We had 54 program crashes, 18 export failures and found 4 software bugs, which doubled the amount of sugar & coffee. We'e spent a couple of hours performing the intended animation in real life, throwing umbrellas and buttons, taping shirts, opening boxes and catching imaginary things …
April 2016

28th Filmfest Dresden Int´l Short Film Festival | Germany
11th Athens Animfest | Greece
Platinum Remi Winner | 49th Worldfest Houston | USA
7th VAFI Int. Children & Youth Animation FF | Croatia
May 2016
7th International Festival of Animated Films ANIFILM (Int´l Competition) | Czech Republic
26th FilmKunstFest MV (Short Film Competition)| Germany
2nd Runner Up | 17th Animation Masters Summit, Flying Elephant | India
18th Future Film Festival (Short Film Comp.) | Italy
6th Int'l Festival of Animation The Truca | Colombia
Best Children's Short Film | 16th Cine a la calle Int´l Short Film Festival | Colombia
13th Neisse Film Festival (Short Film Competition) | Germany
June 2016
40th Annecy International Animation Film Festival (Official Selection) | France
21th Nantucket Film festival | USA
6th Rabbit Fest Int'l Animation Festival (Int'l Competition) | Italy
Best Short Film / Children's Choice Award | 9th Int'l FIlm Festival KINOLUB | Poland
31st Valencia Int'l Film Festival Cinema Jove (Int'l Competition) | Spain
37th Durban Short Film Festival | South Africa
24th Art Film Festival | Slovakia
19th Brooklyn Film Festival (Animation Comp.) | USA
July 2016
39th Outdoor Short Film Festival of Grenoble (Young Audiences Comp.) | France
1st Audience Award | 23rd OpenEyes Filmfest Marburg | Germany
13th Rwanda Film Festival | Africa
32nd Cartoon Club Int'l Festival of Animation Cinema & Comics | Italy
14th Shorts at Moonlight | Germany
9th Animator Int'l Animated Film Festival | Poland
12th Lago Film Fest | Italy
August 2016
40th Filmfest Weiterstadt | Germany
7th Anibar International Animation Festival | Kosovo
17th Lucania Film Festival (Short Film Competition) | Italy
4th Kraljevski Filmski Festival | Serbia
Best Animation Short | 7th Short to the Point | Romania
6th Filmfestival Oberursel | Germany
13th Anonimul Int. Independent Film Festival | Romania
12th Budapest Short Film Festival | Hungary
3rd Hurra!ART Festival | Poland
8th Palena Cinema Award | Italy
September 2016
12th WFAF World Festival of Animated Film Varna | Bulgaria
16th The Night of Animation in Lille | France
10th Animanima Festival | Serbia
4th Tenerife Shorts | Spain
21st Split Film Festival / International Festival of New Film | Croatia
6th AniFest ROZAFA | Albania
Best Animation Film Award | 5th International Tour Film Festival | Italy
11th Shorts Mexico (Animation Comp.) | Mexico
3rd Arkadia Short Fest | Romania
4th Duhok International Film Festival | Iraq
9th Animasivo Int´l Animation Festival | Mexico
21st Split International Festival of New Film | Croatia
9th Animasyros International Animation Festival | Greece
11th LINOLEUM Int'l Festival of Contemporary Animation & Media-Art | Ukraine
10th Jahorina Film Festival | Bosnia Herzigovina
21st International Filmfestival SCHLINGEL | Germany
October 2016
Best Animation Film Award | 67th Montecatini Int´l Short Film Festival| Italy
14th shnit International Shortfilmfestival | Switzerland
8th Comedy Cluj International Film Festival | Romania
Best Animated Short | 13th BendFilm Festival | USA
24th Anima Mundi International Animation Festival | Brazil
10th International Digital Film Festival Kinofest | Romania
10th Canterbury Anifest | UK
45th Kyiv Int'l Film Festival "Molodist" | Ukraine
Best Short Film Award 2nd Prize | 12th ShortFilmFestival Diessen | Germany
14th Tofifest International Film Festival | Poland
10th Kolibri Int'l Film Festival for Children and Youth | Bolivia
1st Prize | 14th Akut Amberger Kurzfilmwettbewerb
3rd Graphic Design Festival Scotland | UK
Special Mention | 13th Sedicicorto Int. FF | Italy
Special Jury Award | 8th ReAnimania Int´l Animation Film & Comic Art Festival of Yerevan |Armenia
3rd Award | 13. Konstanzer kurz.film.spiele | Germany
14th Multivision St. Petersburg | Russia
9th Filmzeit Kaufbeuren | Germany
November 2016
10th Filem'on Children´s FF Brussels | Belgium
33rd Chicago International Children's Film Festival | USA
AISFF Rock Award | 14th Asiana Int´l Short Film Festival | South Korea
19th Mestra Film Festival | Italy
10th PSSST! Silent Film Festival | Croatia
8th Kinodissea Film Festival | Romania
27th Kinofest Lünen | Germany
25th St Louis FF | USA
Best Short Narrative Animation | 6th Int´l Animation Film Festival Gdansk | Poland
16th Flensburger Kurzfilmtage | Germany
3rd Festival Cinemistica | Spain
15th Reggio Film Festival | Italy
30th Leeds Int´l Film Festival | UK
21st Linea d'Ombra Festival | Italy
12th ANIMAGE – International Animation Festival of Pernambuco | Brazil
Best Animation Award | Imagine This Women's International Film Festival | USA
5th Animalada Seville Animation Festival | Spain
37th Festival du Film Court de Villeurbanne | France
iFestival Award | 27th Stockholm Int´l Film Festival | Sweden
6th Aesthetica Short Film Festival | UK
10th Hayah International Short Film Festival | Panama
2nd Manchester Animation Festival | UK
35th Oulu Int´l Children's and Youth Film Festival | Finland
Little Anteaters Award | 10th Golden Anteaters FF | Polen
December 2016
14th LIAF London International Animation Festival | UK
13th Animateka Ljubljana |Slovenia
2nd Kurzfilmtag @ Il Kino Berlin / Berlin Film Society | Germany
11th Zubroffka Int´l Short Film Festival | Poland
14th International Short & Independent Film Festival | Bangladesh
Animation Now!Award | 4th AS Film Fest | Italy
19th Olympia International Film Festival | Greece
January 2017
27th Bamberger Kurzfilmtage | Germany
13th ReFrame's REEL Kids Peterborough Int. FF | Canada
Diamond Award | 7th California Film Awards | USA
7th Maryland International Kids FilmFest | USA
February 2017
3rd Winner Special Jury Award | s8th Providence Children's Film Festival | USA
5th Boddinale | Germany
7th Love Your Shorts Film Festival | USA
10th Forum of Animated Films | Egypt
36th Anima Brussels Animation Film Festival | Belgium
20th New York Int´l Children´s Film Festival | USA
March 2017
7th Green Bay Film Festival | USA
Children's Choice Award | 9th Bay Area Int´l Children´s Film Festival | USA
16th Monstra – Lisbon Animated Film Festival | Portugal
6th Underexposed Film Festival | USA
31st Chester International Film Festival / 4th Animation Festival | UK
18th Landshuter Short Film Festival | Germany
12th Omaha Film Festival | USA
6th Cape Town International Animation Festival | South Africa
4th Shorty Week Short Fim Fest | Spain
1st Animakom – Bilbao Int´l Animation Community Festival | Spain
Leiria Film Fest | Portugal
10th Tehran Int´l Animation Festival | Iran
17th Fargo Film Festival | USA
April 2017
3rd Tlanchana Fest | Mexico
3rd Al-Nahj International Film Festival | Iraq
Reel 2 Real International Film Festival for Youth | Canada
44th Athens International Film and Video Festival | USA
9th Go Short – International Short Film Festival Nijmegen | Netherlands
17th Independent Days Fimfest | Germany
9th CMS International Children's Film Festival | India
International Film Festival of Lanzarote | Spain
12th Cortoons Festival Gandia | Spain
27th Mediawave – International Film and Music Gathering | Hungary
40th Grenzland-Filmtage | Germany
May 2017
2nd Ennesimo Film Festival | Italy
Northwest Animation Festival | USA
11th SorsiCorti Short Film Festival | Italy
9th Leiden International Short Film Experience | Netherlands
17th Media Art Biennale WRO | Poland
1st prize backup.award19th backup_festival | Germany
5th Seoul Guro International Kids Film Festival | South Korea
11th 20min|max International Shortfilmfestival | Germany
June 2017
27th Animafest Zagreb | Croatia
39th Int´l Short Film Festival of San Roque | Spain
6th British Animation Film Festival | UK
16th Euganea Film Festival | Italy
12th Little Big Shots | Australia
August 2017
8th We Like 'Em Short Film Festival | USA
World Sales & Distribution: